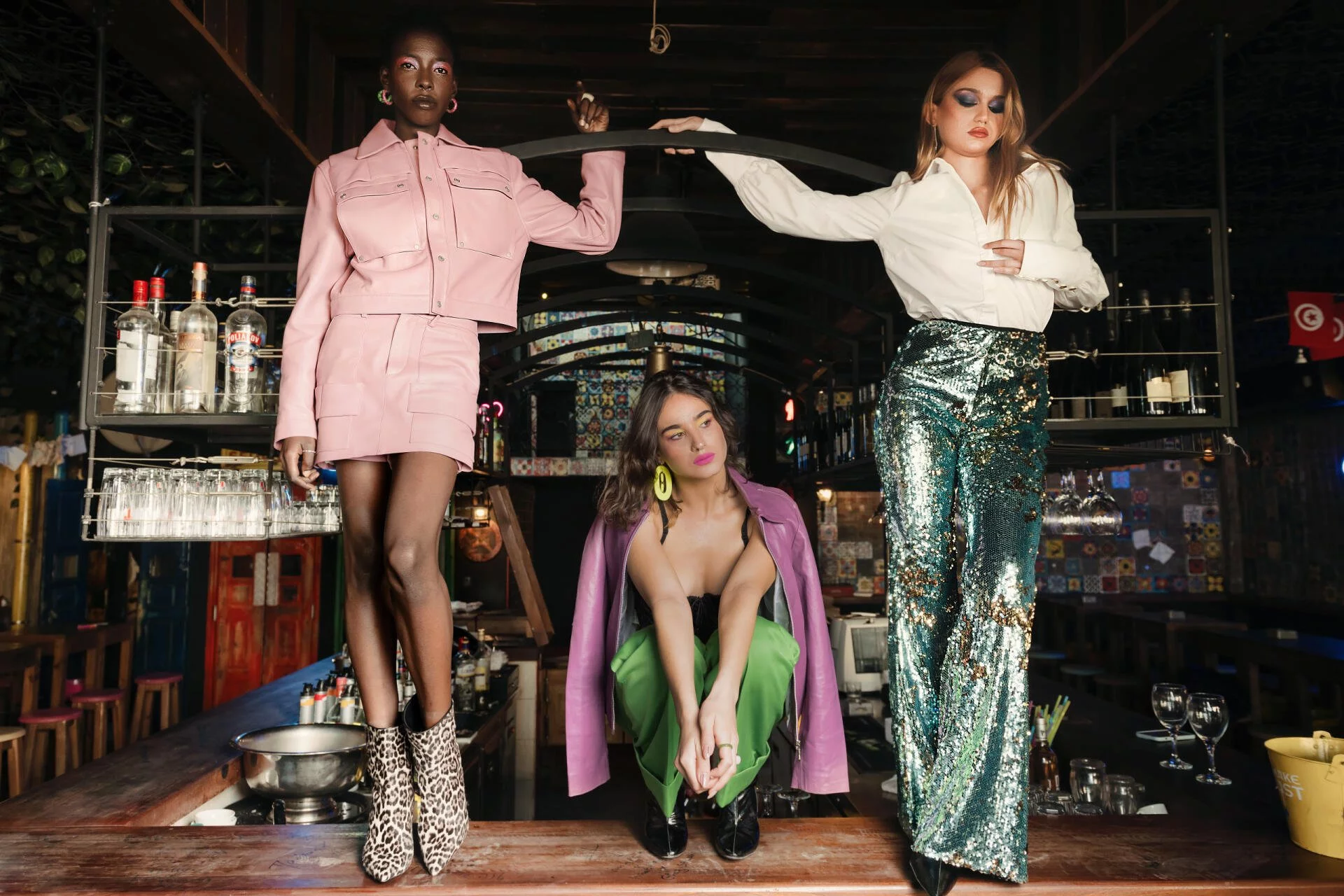 We celebrate the difference
When fashion meets makeup: New Year's Eve edition ft Khalil Nouir
5 min read — Dec 31, 2022
At the witching hour of 31st of December, another year must come to an end.New hopes are sealed, old wishes are revealed and resolutions are achieved.And what better place to celebrate such a glorious year ending in, none other than our ultimate favorite, at the heart of downtown Tunis : Obarrio! It was our shelter in all of our hard times, it listened to a thousand of our teary wine sipped-on conversations and experienced our joys and successes too.It was there where we talked about anything and everything and the moment we'd leave, the secrets are locked away into the walls slowly drawing a painting of our minds, to each a different story and a different emotion.
In short, it was the perfect place for our creative celebratory gathering where we'll be celebrating and saying goodbye to 2022 in our own way and if you know us, you know what that means:
Fashion, makeup, glam, photoshoot!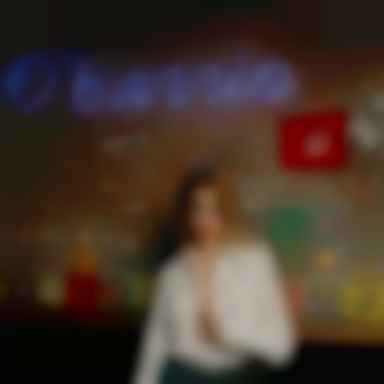 Photography: Ghazi Sakouhi , Makeup: Khalil Nouir, Total look: Zannad, Creative Direction: maft, Model: Molka Ben Salah.The day started very early on for me, and I know, Maft shooting days are often very full of hustling, from coming from Nabeul to getting to the location, it's finally time to get to work!
It was all on "running mode" right until I started to meet everyone on set, friends of maft, gathered the day of the shooting for the sake of the most perfect collaboration to wrap up the year with.
Those friends are creatives, designers, and artists we worked with in previous projects and fun collaborations; occasions that built strong relationships and a huge professional and personal trust.
We're talking about none other thanKhalil Nouir, a young makeup artist based in Tunis, Ghazi Sakouhi, a rising photographer with promising potential, and our close-to-heart designer brands such as Born in exile, Zannad ( Both our previous designers of the month ) and Filupo, our go-to favorite vintage and second-hand store.
And the cherry on top that makes all the difference has to be the models we selected for their screaming characters and gorgeous features, who gave the story of the shooting its profound meaning : Rahma ben Aissa, Mabrouka and Molka Ben Salah.
So in honor of dressing up one last time this year, we chose to highlight 3 different looks for a New Year's Night out, which means we went all out on bringing out the inner wild personalities we wish to be this new year's eve!
And if you really think about it, the way we make people feel is a destination—you become a destination of energy when you can do that either through make-up photography, or clothes.
We start with Molka, rocking out the ZannadFits from its latest winter collection that is to die for with all the glittery and shiny material that often goes both ways unleashing different colors which can clearly see in her trousers, and we had to tone it a little bit down with the white shirt in order to be able to up the scales again on her face with the glowy yet colorful makeup which when talking with the makeup artist Khalil, he revealed that he opted for such a look is so representative of his personality because of the seamlessness of it all. And since beauty is primarily a feeling you can feel its transmission differently from each person, Molka's beauty for him (the hair color, the skin tone, and the eyes, etc.) was screaming: I'm a cat eye kind of girl with a glowy wink.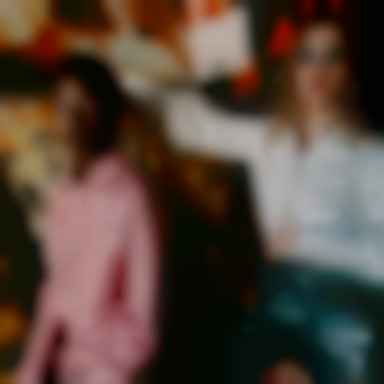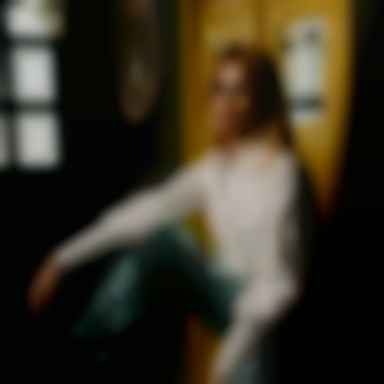 Photography: Ghazi Sakouhi , Makeup: Khalil Nouir, Total look: Zannad, Creative Direction: maft, Model: Molka Ben Salah.
So that's why we wanted to get Rahma out of her comfort zone through a splashy set of green pants and a sexy black top from Filupo which went perfectly with her allure and her short hair together radiating this fierce powerful woman owning up her truth just like the models that rocked those clothes at the latest brand's fashion show, however this time Rahma rocked the fits for a New Year's party!
It was a challenge to find the look that would get her out of her shell and yet go perfectly with her sense of ease; The moment she put on that fit and finished the makeup look, Rahma was a girl on fire ready to dance the entire night!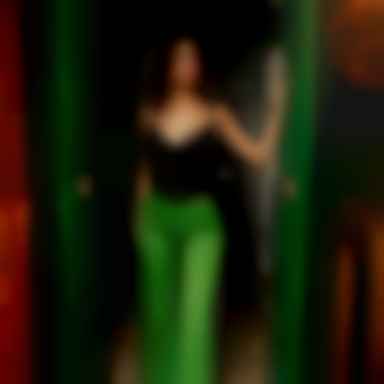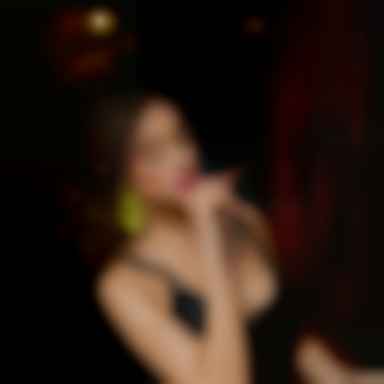 Photography: Ghazi Sakouhi , Makeup: Khalil Nouir, Total look: Filupo, Creative Direction: maft, Model: Rahma Ben Aissa.
Further down the line, in the shooting while walking across from one model to another I couldn't help but notice the creativity that proceeded to bring out different characters from each model which represented genuine fragments of each collaborator's touch; Maft in the styling and the creative direction, Khalil in the breathtaking makeup, Ghazi in photography capturing the glam of it all.
And speaking of characters and dressing up real good, who says you have to confine yourself to a gleaming lip, a pretty eye, and maybe a little glitter at holiday time?
The most exciting, most adventurous young makeup artist is here today —emphasis on that second word, artist!So it was time to create some magic by treating the face as a glorious blank canvas.
Khalil thought nothing but adorning and obscuring Mabrouka's features in ways that hover between dream and nightmare, inviting us along on a fascinating excursion to the dark—and the light—side of self-creation.Pink wasn't only the highlight of her skin color, it was about to be her middle name, the moment she came out with the Born in exilepink set coordinated with flashy pink eye makeup and a dark lip that went smoothly with her skin color giving her more confidence for that duck face kind of selfie!In short, Mabrouka was our Pink girl turning heads when she walked through the door! (Shoutout to one direction for the perfect lyric)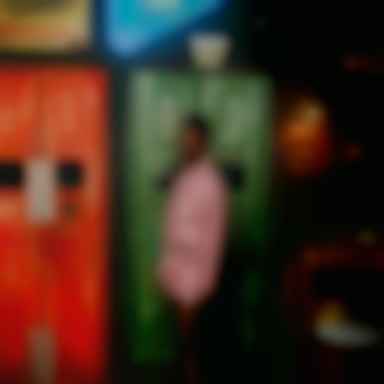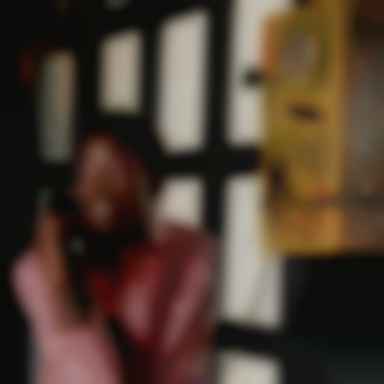 Photography: Ghazi Sakouhi , Makeup: Khalil Nouir, Total look: Born in exile, Creative Direction: maft, Model: Mabrouka.
And with the year ending with this overflow of inspiration it's about time we started to realize the value of our visionaries and artists, the reason why we wanted to hold out this celebration, in honor of them and in honor of the journey and the success that wouldn't have happened if it wasn't for the creative minds behind it and the dedication, commitment and the power of hustling each one of us yields!Today we say goodbye to a wonderful year, full of achievements, downsides, and mental breakdowns but most of all full of heartfelt memories that we'll cherish forever and ever!But with goodbye comes a new hello, a fresh start, and an open welcome to the new year in which we aspire to broaden our horizons and bring in new Mafters (Designers, artists, writers, singers, etc) from all over the MENA region!Happy New Year, Dear Mafters, it has been quite a ride ! But as they say, fasten your seatbelts .. THE BEST IS YET TO COME !