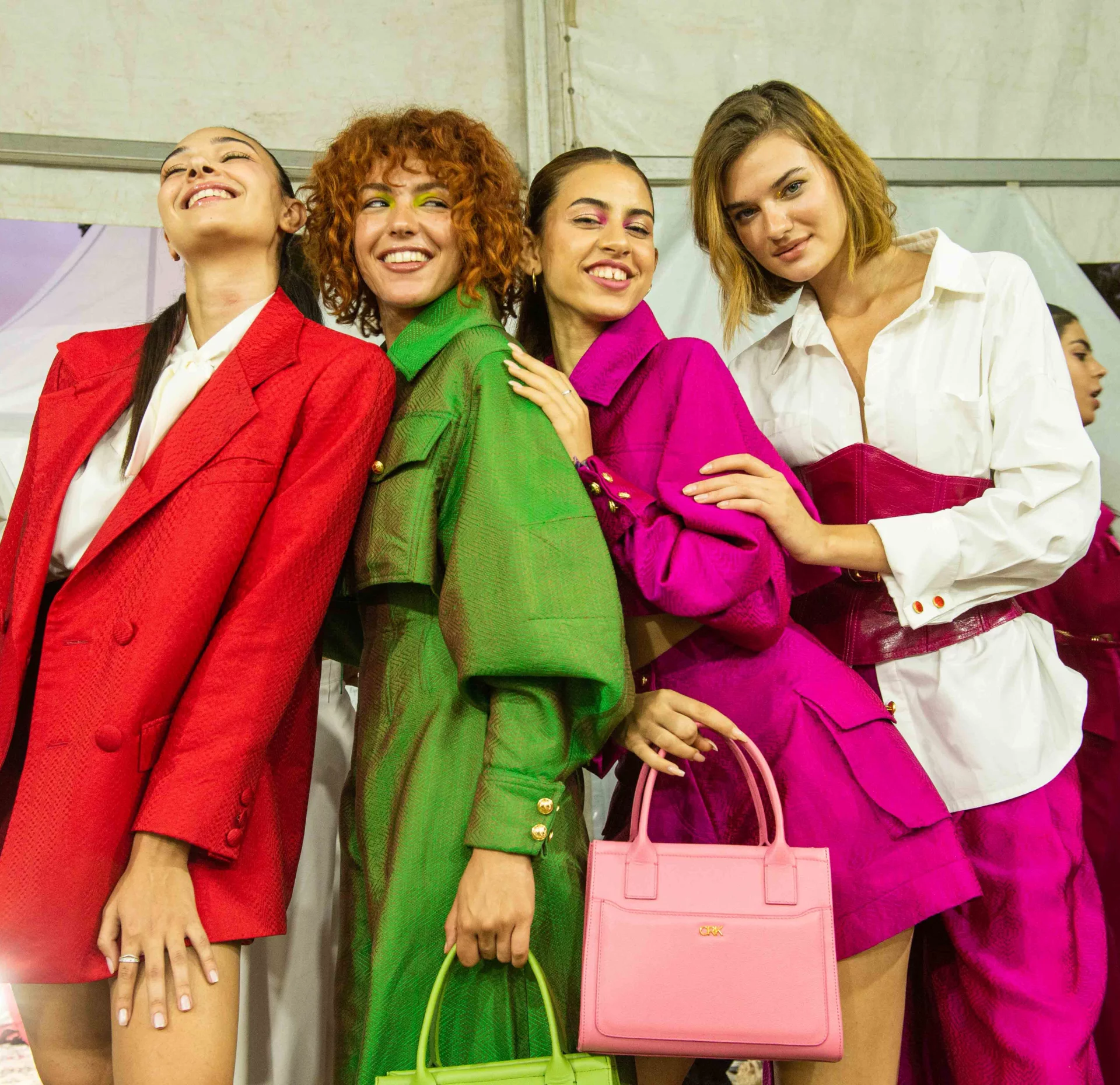 We celebrate the difference
Zoom on Calestis, The Tunisian IT brand of the season.
7 min read — Aug 29, 2023
Hey, maft readers! Have you ever been captivated by names with deep historical roots? Allow us to introduce 'Calestis'. Derived from Latin, signifying 'celestial' or 'heavenly', a name not just rooted in the skies but echoing ancient Mediterranean tales.
Today, we enter the world of the luxury prêt-a-porter brand 'Calestis'. We dive deep into the narrative of Emna Gahbiche, a rising fashion designer who aims to empower women and celebrate feminine energy through her brand.
Stitching together her past inspirations with present aspirations, we sat down with Emna to get an intimate peek into the heart and soul of 'Calestis'.
Emna, walk me through your fashion journey.
I was always intrigued by fashion. Even as a child, before genuinely understanding the industry, I made ballet dresses for dolls and revamped jeans into skirts. My passion began at 12, collecting magazines and fabrics and diving into fashion biographies.
However, when I was fifteen, I attended the Yves Saint Laurent retrospective in Paris, which was life-changing. That exhibition wasn't just an art showcase; it was my calling. Yet, it wasn't an easy path to follow. Despite my dreams of studying in a renowned Italian fashion school, I had to navigate societal and familial reservations. Still, my passion led me to the School of Fashion in Monastir. Although enriching, I sought more hands-on exposure, driving me to work harder to practice my skills in workshops and internships in France and finally return home to start my brand.
Did the Paris fashion scene influence you during your internships in France?
My deep love for my country and heritage never waned, even when I was in Paris. I was there to hone my techniques and to learn alongside other designers.
At "On Aura Tout Vu - Maison Haute Couture", I was part of an international team where I dived into various tasks daily.
One highlight? I worked on a costume that Rihanna later wore on stage!
I also had the opportunity to intern with the iconic Alexandre Vauthier, where I delved into pattern-making. While that stint wasn't as fulfilling as my time at On Aura Tout Vu, it sparked a revelation: I yearned to be the force behind my brand, crafting my designs in Sousse using Tunisian fabrics and merging local craftsmanship with luxury collections.
The name "Calestis" is unique. Can you share the tale behind it and its significance to the brand?
Starting my brand, I sought a name that resonated with my Mediterranean Tunisian roots and encapsulated our rich culture. Being a fan of Greek and Roman mythology, I dived into history, looking for symbols of solid femininity. Interestingly, in ancient Carthage, now modern-day Tunisia, our revered goddess Tanit was associated with the 'Heavenly Goddess' during the Roman era.
The Greek poet Virgil spoke about this transition in Carthage's history, where, post the Roman influence, Tanit evolved into Juno Caelesti. We even have a temple dedicated to Calestis in Dougga. The term 'Calestis', stemming from Latin Caelestis, translates to 'celestial' or 'heavenly'.
For me, it beautifully combines celestial charm with our Tunisian lineage, becoming a beacon of femininity and strength. Each design we create reverberates this harmony, almost like draping a piece of heaven.
What gap in the market did you see for Calestis, and what message did you aim to convey through the brand?
I envisioned Calestis as a brand for everyone, tailored for any occasion. While our e-shop provides a convenient platform for orders, our collaborations with concept stores, participation in Tunis Fashion Week 2023, and connections with luxury French stores supporting Tunisian brands have bolstered our reach.
Calestis prêt-a-porter resonates with the contemporary woman. She's powerful yet cherishes her femininity. We celebrate the duality of robustness and delicate grace, fusing empowerment with allure, curves, and fluidity. Our designs are for the modern woman, a nod to divine femininity, making her feel formidable and proudly feminine. That's the Calestis aesthetic.
Congrats on your new showroom in Sousse! How does this new space embody Calestis's essence?
Thank you! Our journey began in 2020 with the atelier. The initial phase was intensive. We invested a year in perfecting prototypes and sculpting the brand's identity. Though it seemed like we were sinking costs, every penny spent was an investment aimed at the larger vision of Calestis as a luxury ready-to-wear brand.
By 2023, we introduced the showroom Calestis Couture, explicitly tailored for bridal couture, catering to the Tunisian community. On the other hand, our ready-to-wear line is crafted with an international audience in mind. While our showroom embraces local traditions, our prêt-a-porter collection aims for global appeal.
Emna, can you tell us more about the aesthetic of your showroom and how it caters to the desires of contemporary brides?
Our showroom started as a side project for Calestis prêt-a-porter and is thoughtfully designed with a minimalistic theme, offering a calming and comforting ambience for brides-to-be. Over the years, I've encountered many women longing for unique and minimalistic wedding dresses, often unable to find that dream design. Understanding this gap, I channel their desires into our creations, ensuring every bride finds her perfect dress for the big day in our space.
Can you shed some light on Calestis' primary audience? Are they predominantly from Tunisia, or have you noticed interest from international buyers as well?
At Calestis Couture, our Tunisian customers deeply value our premium wedding gowns, whereas our prêt-à-porter line, crafted from top-tier materials, is aimed at the international market. I've showcased in France and received an overwhelming response.
We're constantly met with immense support and acknowledgement for our unmatched quality. Yet, our commitment to growth never wavers.
In our atelier, there's a prevailing mantra: every creation we produce is the baseline, ensuring that each subsequent piece surpasses it. We're on a journey to cement our brand's unique identity. Many have described our brand as distinct, often surprised when they discover its Tunisian roots. I aim to dismantle the misconceptions surrounding Tunisian designers and spotlight their prowess.
Could you walk us through your creative process? How does an idea evolve from a mere thought to a tangible piece of clothing?
My journal is always with me, capturing my artistic and personal ideas. Every collection has its story. The 'Zakiya' collection, for instance, emerged during COVID-19 from an exquisite silk brocade fabric I bought in Monastir with my grandma's gift. Initially unsure of its purpose, the lockdown period provided the time to delve deep, leading to the creation of this collection. The latest series was a team effort, experimenting with fabrics and aesthetics. I find inspiration everywhere; the world is filled with creative triggers.
How do you select the perfect fabric for each design, and what criteria are essential for your choices?
The choice is primarily technical. It's all about what you're crafting. For instance, if you're designing a tailored suit, it necessitates a specific type of fabric and technique to achieve the desired outcome. Currently, we're creating our materials. I choose the threads and then collaborate with artisans to weave the fabric. The design often dictates the type of fabric to be used.
The craftsmanship of local artisans is evident in your work. Why is it essential for Calestis to collaborate with them? What value do they bring to the brand?
Our collaboration with local artisans is not just a choice but a commitment to preserving and showcasing the rich artisanal traditions of Tunisia. Their invaluable skills passed down through generations, infuse authenticity and unique character into our pieces. By incorporating their craftsmanship, Calestis becomes more than just a brand; it becomes a tapestry of stories, heritage, and a celebration of Mediterranean artistry.
I want to experiment with the embroidery techniques used by artisans in Hammamet and with what's been done in Cecile. Both places have a Mediterranean touch that I love. I plan to mix the best of both and work with other artisans from around the Mediterranean.
Sustainability is at the core of Calestis. How do you ensure your fabrics and materials align with this ethos?
We prioritize a hands-on approach with our local artisans in the atelier. Our production process is twofold: it begins in-house and then extends to our skilled artisans. Strength lies in our innovative fabric experiments, with a solid lean towards sustainability and the slow fashion approach.
Our meticulous process of fabric selection, artisanal collaboration, and prototype development keeps us away from the pitfalls of mass production. Moreover, each piece we create resonates with my Tunisian Mediterranean heritage, reflecting a harmonious blend of tradition and modernity.
What's in store for the future?
We're refining our marketing approach and solidifying the Calestis brand identity.
We are proud of all the hard work we've put into the collections and making costumes for singers like Noor and Selim Arjoun, Aurora, etc., yet we haven't shown the world everything. We feel there's so much more to unveil. Our goal remains clear: to empower our audience and distinctly showcase what Calestis stands for.
So there you have it, maft readers! From goddesses to gleaming ateliers, Calestis leaves an indelible mark in fashion. With a touch of Mediterranean charm and a sprinkle of celestial magic, Emna is painting a canvas of timeless collections to empower women across the globe.
You can visit Calestis's website to purchase a luxury prêt-a-porter outfit, or visit her showroom in Sousse for Haute Couture gowns.
Until next time!