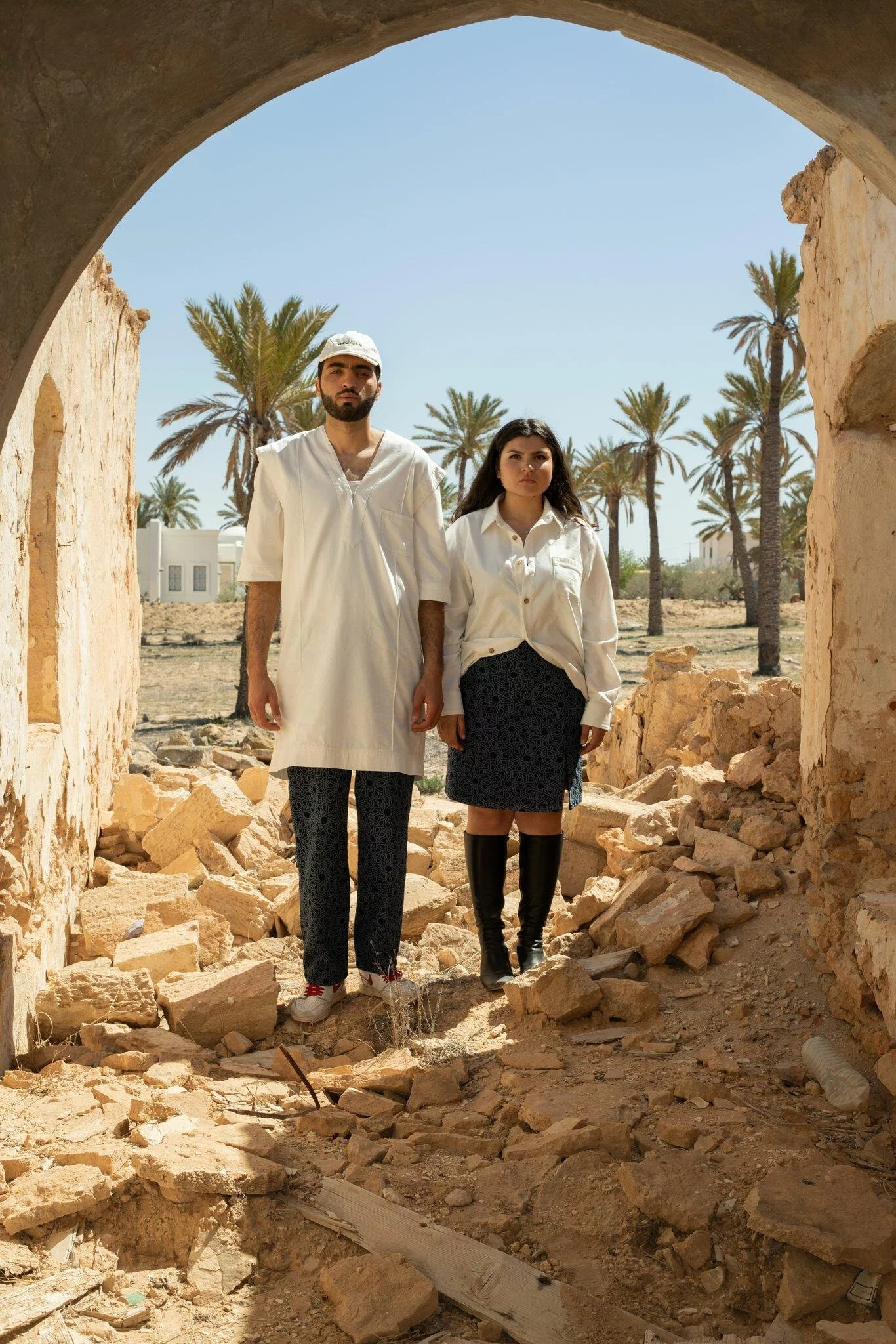 Designer of the month: Camélia Barbachi, founder of the brand CHEZ NOUS.
7 min read — May 15, 2023
In the dynamic realm of fashion, where trends flicker and fade, a beacon of enduring style and cultural authenticity shines brightly. Camélia Barbachi, the Franco-Tunisian fashion designer, has carved a distinct space in the industry with "Chez Nous." a prêt-à-porter brand that harmoniously blends Tunisian traditions and Western influences.
As we spotlight Camélia as our Designer of the Month, we invite you to delve into her journey, her values, and her vision for the future of fashion. Get inspired by a story of resilience, innovation, and a deep-rooted passion for fashion that transcends borders.
Discover the designer
Who is Camélia, and what is your origin story?
I am Camélia Barbachi, a child of Tunisian parents brought up in France. My experiences and the cultural influences I've absorbed have profoundly influenced my trajectory as a fashion designer. Having faced my fair share of racial encounters and stereotypes, I felt a compelling urge to craft a fashion line that flawlessly intertwines my Tunisian lineage with Western influences. My primary focus is on fostering inclusivity and celebrating the duality of cultural identity, particularly emphasizing embodying my Tunisian heritage proudly.
How have your experiences, cultural influences, and the challenges between Tunisian and French cultures shaped your approach as a fashion designer and influenced your design aesthetic?
My experiences, particularly the challenges navigating between Tunisian and French cultures, have significantly shaped my approach as a fashion designer. I've had experiences with racism that made me feel different, and it fueled my desire to help people feel a sense of belonging in their skin.
I wanted to wear my henna and heritage proudly, even though they were only sometimes well-received. I draw inspiration from various aspects of Tunisia, such as the 'Karmla' seen at weddings, our traditional attire, and my friends' demeanor. Furthermore, I strive to incorporate these influences into my designs as a signature touch.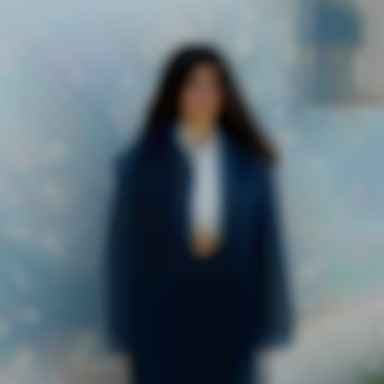 What makes the Mediterranean fashion sphere unique, and how do you integrate these elements into your designs?
The Mediterranean fashion sphere is particular due to its blend of traditional Tunisian elements and contemporary Western garments. I am dedicated to integrating these elements into my designs, creating a distinctive aesthetic for Chez Nous.
Discover the brand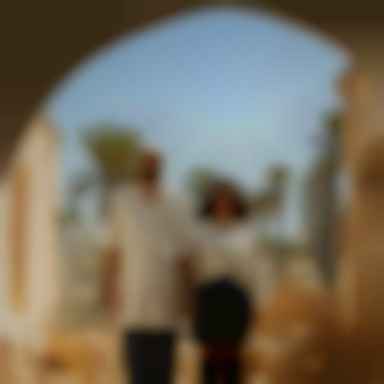 Could you walk us through your journey as a fashion designer and entrepreneur, from the early stages of your career to founding "Chez Nous."? How have these experiences shaped your approach to sustainable and ethical fashion?
My journey began with studying international business and gaining diverse experiences through internships abroad in the USA, Spain, and Brazil. This multicultural exposure shaped my understanding of diversity and cross-cultural exchange, aspects I hold dear to this day. My time spent in fashion consultancy and brand merchandising gave me insights into the darker side of the fashion industry, something I wanted to be part of its change.
"Chez Nous." aimed to establish an inclusive, ethical brand that encapsulates my Tunisian heritage while catering to all body types, genders, and cultures. We work with certified sustainable workshops in France and Tunisia, ensuring fair wages and good working conditions. I wanted to proudly highlight my roots and shed light on Tunisia's advanced textile industry.
The name "Chez Nous." has a special meaning in Tunisian culture. Can you share the story behind choosing this name and its significance for you and your brand?
The name "Chez Nous." comes from a Tunisian term often used to describe those with dual identities living in Western countries like France yet maintaining a solid connection to our Tunisian roots. This term reflects the double sense of belonging that many of us experience – a nostalgic yearning for our native Tunisia in France and a familiar feeling of being "home" in France when we visit Tunisia.
"Chez Nous." symbolizes inclusivity, a principle that perfectly aligns with my brand's ethos. It represents a sense of belonging, a sentiment that profoundly resonates in a world where fitting into predefined societal norms can be a struggle.
Can you elaborate on the ethical practices and standards that guide your brand? How do you ensure these values are upheld throughout the production process?
At "Chez Nous.", our ethical conception is deeply rooted in our practices and standards, upheld throughout our production process in France and Tunisia. In the North of France, we collaborate with a zero-waste knitting workshop and a professional insertion campus, promoting the inclusion of individuals from challenging backgrounds while ensuring traceability and transparency. Manufacturing in France also helps us reduce our carbon footprint, fostering more eco-responsible garments.
In Tunisia, we work with two workshops in Monastir, certified by GOTS, SA8000, and ISO 9001. These certifications, the strictest in the industry, guarantee fair working conditions, wages, and environmental respect by prohibiting toxic substances, treating wastewater, and minimizing and recycling pre-consumption waste. Producing in Tunisia, in workshops that respect both humans and the environment, allows us to make a positive impact in a country known for its textile expertise. We strive to uphold our commitment to ethical production and sustainability by maintaining these practices across multiple locations.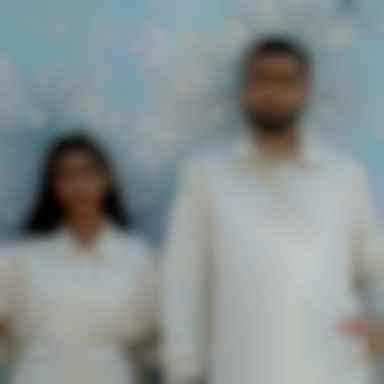 Can you describe the methods and approaches you use to ensure that your brand's designs are eco-responsible, and what strategies do you employ to minimize the environmental impact of your supply chain?
We're always in contact with recycling companies and are continually exploring technologies to reduce our environmental footprint. For instance, we laser engrave the name tags on our jeans and jackets, a minimalist approach that makes recycling easier.
What emotions or values do you aim to convey through your clothing designs, and how do you strive to make them relevant and accessible to diverse audiences?
Chez Nous.'s designs are not just about aesthetic appeal; they embody a sentiment of unity and inclusion. Our clothes are unisex, non-gender-specific, and we offer sizes from XXS to XXXL. We work on designing for many body types to represent the diversity of our audience. We have a shop in Paris and a spot in Galeries Lafayette, giving us excellent visibility and representation. It's always a delight to see people's surprise when they discover a Tunisian designer behind these pieces. It feels like I'm opening doors and breaking stereotypes.
How do you approach creating new collections, and what specific themes or inspirations guided the creation of your most recent collection?
Creating a new collection is always a journey back to my roots, with specific themes or inspirations guiding me. My first collection was an exploration of who I am, a tribute to my family, and a reflection of my Djerbian heritage. The following collections were more about my journey, experiences, and nostalgia.
The future of the brand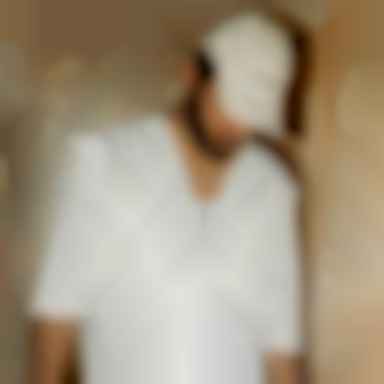 What are your goals for showcasing your brand in Tunis, and how do you hope this will impact the future of "Chez Nous."?
There is a demand in Tunis, and I want to approach this strategically, making intelligent choices. It's as if we're saying, "We're coming home soon."
Showcasing "Chez Nous." in Tunis will give us a more robust market presence and allow us to significantly impact the place that holds such a special place in my heart.
Looking ahead to the next five years, where do you see the brand and your creative journey taking you, and what challenges do you anticipate?
Over the next five years, I foresee ups and downs – that's life. But I'm open to experiences and will do my best to manage difficulties and turn them into lessons. I aim to further develop "Chez Nous." in France and expand internationally. I see Tunisia as a promising market, but we're already reaching out to the Belgian and UK markets. I'm also particularly interested in developing "Chez Nous." in the African market, as a North African brand.
What advice would you give aspiring fashion designers passionate about creating a sustainable and ethical brand, and how do you hope to inspire the next generation of fashion industry professionals?
First and foremost, believe in yourself and have faith in the project. This is crucial because it's too easy to be disheartened in the face of challenges. It's essential to remain ambitious, have confidence in your project and vision, dream on a grand scale, and put in the necessary hard work to realize your dreams.
Camélia Barbachi's story lights the way for the fashion industry's future in the Mediterranean region. Her commitment to sustainability and inclusivity, combined with a deep reverence for her cultural heritage, positions her as a genuine change agent. As we celebrate her as our Designer of the Month, we look forward to seeing how her vision for "Chez Nous." continues to evolve, inspire, and reshape the world of sustainable fashion and design.